Teeth in just one day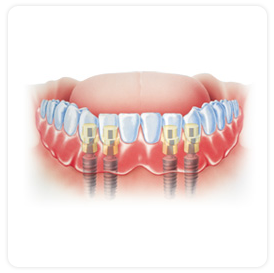 Using 4 Ankylos® implants we are fixing your lower denture strong, giving you excellent comfort of eating and conversation.
No problems with flapping denture anymore! - no more embarrassing suprises.
The denture is attached to the implants with special retainer systems, which consist of two components.One component is permanently attached to the implant, its counterpart is part of the denture.The components click together just like pressing a button and your denture is firmly attached!
For cleaning the denture can be easy removed and just as easily replaced after cleaning.
Pacient leaves our practice with fixed denture after 2 hours!
*After 8 weeks the denture should be reinforced with the metal framework.