Root canal treatment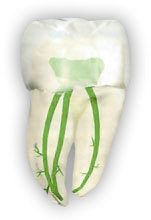 Our practice is equipped with a state-of-the-art root canal treatment system Dentaport ZX for cleaning and broadening even very narrow root canals and a K3 nickel-titanium (NiTi) rotating instrument system. Sometimes what we usually call a root canal is in fact a whole system of branched or forked canals, spreading like a river delta (hence the name – root delta ).
This whole space has to be cleaned and disinfected. Remainders of tissue left over in the canal are a feeding ground for bacteria, which can re-initiate an inflammation. Thanks to Obtura and Touch'n'Heat thermal condensation technique of root canal filling we can hermetically fill even the most curved and branched canals. A tooth treated that way can successfully serve the patient for many years, and the root itself can be used for future complex prosthetic reconstruction.
Root canal treatment in our practice is painless!